E
Every young girl dreams of making her mark in the world.
For Ruby*, she thought this would begin when she was given the chance to prove her independence. As the youngest of ten siblings, most of whom already had their own families, she thought her opportunity came when a recruiter sent her a private message on social media offering her to be one of their staff in a computer shop.
The recruiter won her trust by offering free board and lodging while she worked for them, even offering to pay for the travel fare from her hometown to a place 650 kilometers away (approx. 400 miles). The recruiters even sent their houseboy to pick her up from the port.
Dream turned nightmare
Imagine Ruby's dismay when she discovered that the work she was about to do was far from what she was offered.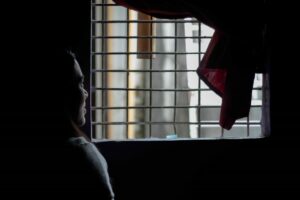 Ruby wanted to leave, but could not do so until she paid off what has now become her travel fare debt – which became more and more impossible to pay with all her "income" going to overpriced goods sold by her recruiter. On the day she attempted to escape and cried out for help, her life was threatened with a kitchen knife held by one of the girls in the cybersex den with her.
"At that point, I have lost all hope of escape. I felt imprisoned and powerless, without a fight. I cried and prayed the entire night, 'Lord, if you're real, get me out of here!'" – Ruby*
SEND RESCUE
Break free to fly
IJM helped Philippine authorities pinpoint Ruby's location and rescued her along with 5 other girls enslaved in the cybersex den with her. The couple who ran the illegal operation were sentenced to 15 years in prison.
Ruby is free and safe today. She has experienced so much freedom that she has forgiven her perpetrators – even praying for them at the back of the courtroom after their conviction. IJM worked to place Ruby in an aftercare home that helped in her restoration.
Today, she is already living independently and is a survivor leader speaking to raise awareness and action against online sexual exploitation of children (OSEC) – one of the fastest-growing forms of human trafficking. She even considers pursuing a law degree in the future, with the hope of helping other girls who are trapped in similar slavery schemes.
As a Freedom Partner, you can help empower survivors like Ruby to become leaders who serve with their uniquely powerful voices.
BECOME A FREEDOM PARTNER
The fight of my life
Ruby is not proud of what happened to her, but she is still grateful for it. Why? Because now she can use it to help other children who are still trapped in OSEC. She courageously said yes to the invitation of telling her own story using her own voice, with the hope that more people will join her in the fight to end OSEC.
Finding Ruby is a six part immersive podcast experience that journeys with Ruby, through the hell of an online sex trafficking den and out again to the light of justice, healing and restoration.
Share Ruby's incredible story of triumph and help shed light on one of the world's fastest growing crime.
*A pseudonym
You might also be interested in…