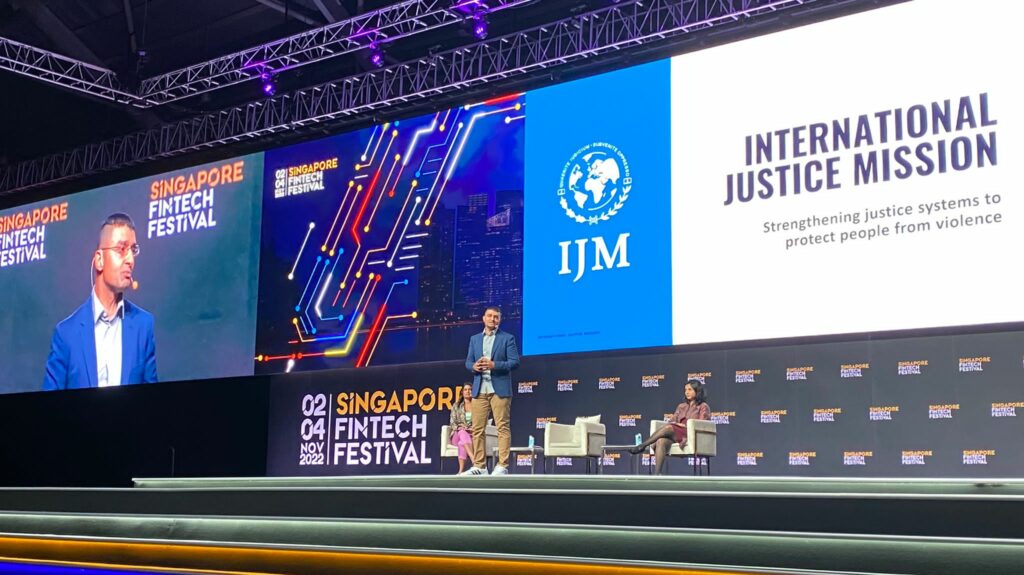 Tech and financial companies can build platforms and products safe by design to prevent child sexual abuse online, International Justice Mission's (IJM) John Tanagho said.
The crime, in which mostly Western offenders pay to watch or direct sexual abuse of trafficked children, flourishes where law enforcement is lax or under-resourced. And in the last few years, COVID-19 lockdowns has unintentionally created a surge in the online sexual exploitation of children.
Child protection NGOs and law enforcement are working hard to protect children online but video-chat platforms and all money transfer companies have a unique role to prevent, detect and report harm at the earliest stage, said Tanagho, Director of IJM's Center to End Online Sexual Exploitation of Children.
Speaking at the Singapore FinTech Festival held on 2 and 3 November, Tanagho, whose experience in the field dates back before the emergence of online child abuse, said to a crowd of more than 60,000 participants coming from all over the world:
"Livestreamed child sexual abuse didn't exist before the digital age, and it flourishes in the shadows— undetected, unreported, unmitigated."
Tanagho went on to lay out a three-point action plan for online payment and tech companies to minimise opportunities for offenders to misuse their platforms to abuse children:
Firstly, platforms that inadvertently facilitate online child abuse can use data, expert consultation and indicators to make them "safe by design".
Secondly, money transfer companies can engage in robust financial transaction monitoring and treat child exploitation payments like terrorist financing or fraud, not anti-money laundering, reducing reporting time from 50-100 days to five.
"Report the maximum amount of information, not the minimum required … and provide meaningful suspicious transaction reports that law enforcement can use," Tanagho urged.
Tanagho rounded out the three-point plan by appealing for electronic service providers and online payment firms to collaborate with IJM, which has partnered with Philippine law enforcement in rescuing more than 1,000 victims, arresting more than 300 suspects and convicting more than 150 traffickers over the past six years.
"You will help protect children from harm, hold offenders accountable, give survivors what they need to heal, thrive and lead," Tanagho said.
The Philippines is a global hotspot of this form of child abuse and trafficking due to multiple enabling factors: high internet accessibility, digital advancements in payment platforms and English language fluency.
IJM helped to establish the Philippines Internet Crimes Against Children Center (PICACC), which partners local law enforcement with federal police from Australia and the UK (United Kingdom), two of the main demand countries.
Despite hundreds of arrests of traffickers in the Philippines, remote sex offenders in their home countries remain out of reach of PICACC. "They do not think they will get caught. They do not think the platform they are using will detect them, and they do not think law enforcement will either," Tanagho said.
Please join the global movement to end the online sexual exploitation of children and scale protection against it. We have specific opportunities for FinTech firms to be part of the solution to child sexual abuse online. Contact our team to find out more.
You might also be interested in…